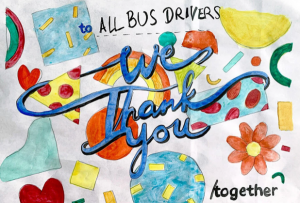 Sunday 5th July, the NHS's birthday, and this will be a moment for us to together reflect on everything our communities have recently endured, stand in solidarity to mourn our losses, and thank those who are risking so much to keep us safe. Thanking everyone, from truck drivers and cleaners to doctors and shelf stackers, all of the key workers who have kept us going.
It will also be a thank you to our neighbours, the ones who did the shopping, got the prescriptions, kept an eye on each other or simply did their best to stay home and save lives. This day will be the start of the campaign for a kinder, closer and more connected country.
There will then be three phases to the campaign:
1) Talk/together (Autumn 2020): Starting a national conversation about what divides us, what unites us and what would bring us closer together.
2) Sharing/together (Winter 2020): Sharing the stories, ideas and events that connect us.
3) Doing/together (2021): We will get behind existing events and ideas that bring people together and create new ones where there are gaps
Our hope is that together we can kick start a change in narrative, revitalise our connections with each other and galvanise institutions into doing their bit.
---
How you can be involved
To succeed, this coalition needs to involve people and communities from every corner of the UK. We want everyone, from community groups across the country to some of the UK's best-known organisations, to be a key part of /together, amplifying their work, feeding their experiences into the talk/together consultation to shape future outputs and engaging people to take part.  Please contact info@together.org.uk to find out more about /together and how you can be involved.